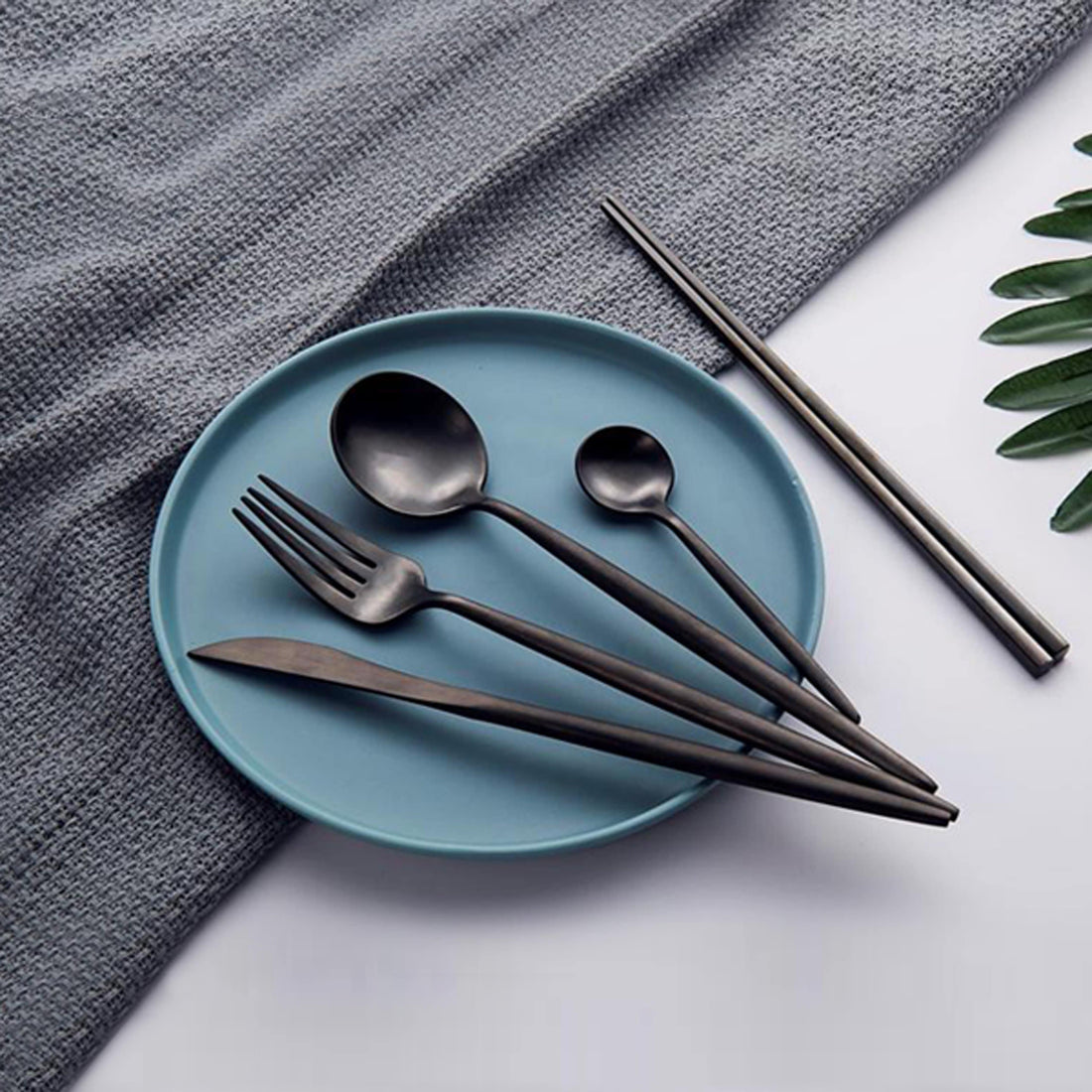 Luxury cutlery set online in India
Cutlery accessories and must-haves
The unsung hero of the kitchen is cutlery. We use it for cooking, serving, and eating at every meal. The rich brilliance of high-quality cutlery adds the finishing touch to a dinner arrangement.
It is essential to select cutlery set that not only meets your needs but also compliments your style, your home, and your eating habits. We have put together a simple guide to picking the best cutlery set for you, as well as some important maintenance suggestions to keep it looking great for years.
After you have sorted out your basic cutlery, it is time to choose the unique luxury cutlery set and accessories that will identify your kitchen and table.
Read why you should purchase cutlery sets online
The most important thing is to understand why and how you will utilize a well-designed knife or spoon set. Given that, you can make your purchase and proceed. If you cook rarely, you can save money by purchasing basic cutlery sets. This can assist you in both conserving money and meeting your requirements. A simple cutlery set may be within your price range. If you enjoy cooking, however, you should invest in a larger set that includes a variety of spoons, knives, and forks.
It is also simpler to find the luxury cutlery sets online for hosting dinner parties  if you can pin down your choices. Shapes Product offers a variety of cutlery sets with stands to meet your needs.
Cutlery sets are available online and are great for family dinners. Table knives, dessert spoons, table forks, supper knives, dinner forks, teaspoons, and soup spoons are all part of the set.
Designs of cutlery sets to reflect your Indian heritage
When you have dinner guests, you can display your contemporary cutlery set, which is inspired by your Indian heritage. Consider how much your guests will admire your collection of luxury cutlery sets.
Cutlery is a little but important part of making a style statement at your dinner table. These are priceless items that you keep for special occasions. Spending a little more money on luxury cutlery sets that matches your dinner plates and other table accessories is a smart idea.
Classic cutlery collection
The Decor Circle's classic cutlery collection keeps every kitchen's heart racing and spirit dancing. This finely carved golden cutlery is to a kitchen what a rhythmic background beat is to a great hit song.
Timeless cutlery collection
This cutlery set from The Decor Circle is smooth to the touch but ageless, and it looks as if it is dressed in velvet. It dares to be your bumptious kitchen's boozed-out friend for years to come. Every eye is drawn to its clean form, superb finish, and star-like beauty.
Collection of modern cutlery
This modern cutlery collection does what it does best: it makes everyone's heart race. This is the only place where you will find the rare combination of aggressiveness and elegance. The golden body dressed in army green will make you stare at this cutlery collection for hours, raising your eyebrows and dropping your jaw.